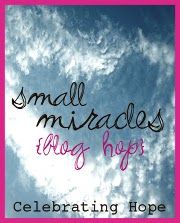 I've spoken of miracles before. Today, I'd like to share a small miracle that I carry inside of me. Our precious baby-to-be. A baby whose continued survival is miraculous to me. Every time I feel his or her hands and feet moving inside of me, I am reminded of how amazing it is to still be pregnant. A baby with this condition has no guarantees. Fifteen weeks ago I was reminded that I could go into labor at any time and that there is a very real chance the baby will not survive to its birth.
My body is a miracle. Our first child, born almost eight years ago with Potter's Syndrome, survived thirty-seven weeks in my womb without fluid which would develop his lungs and yet he was born crying. My body staved off labor so that our precious son, who was literally stuck sideways in my stomach, could be delivered via c-section alive and breathing. That day we were not granted the miracle we had prayed for, but the sound of his voice was just one of the small miracles we experienced. This same body has birthed three precious little girls, all born without complications and amazingly without any signs of labor. Four c-sections and counting, it has not let me down. And now this little one, thirty-four weeks and counting, little to no amniotic fluid and a rapidly expanding baby.
The combination of this baby's will to live and my body's efforts to give it life are utterly amazing to me. Miracles.
I've also spoken of hope. Oddly enough, as I prepare to greet this little one into the world and let him or her join big brother in the next, I have hope. Three hopes, to be precise. Our three beautiful daughters. Had my husband and I succumbed to the fear and despair I felt after Wyatt's death they would not be here. Facing death the first time I did not have this hope. I had nothing to tell me one day I would breathe again, that my heart would find a way to beat. Facing death the second time I do have hope. I have seen what hope and faith can do and what living without them is like. My daughters give me hope, because it is out of hope they were conceived.